Hello everyone,
Happy Wednesday and happy WIAW! Only one more day to go until we enjoy a lovely long Easter Weekend!
Two days after my first Half-Marathon I am almost back to normal! My legs are neither stiff nor hurt with any movement anymore. I've had a fantastic weekend in Vienna with loads of great food. I enjoyed pizza and burger, ice cream and coffee, we ate falafel at an oriental restaurant and had a lovely fresh pressed juice. Pure bliss!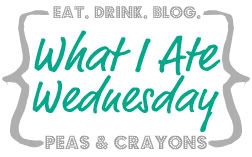 So back at home yesterday my food rut was totally out-of-place. But I've learned a lot about and from my body over the last 12 weeks so I just drifted with the flow ;-) Many thanks to lovely Jenn, for hosting this fantastic link-up!